Physical Activity
Recent research reveals nearly half (46%) of New Zealand children are not playing actively every day. [1]
Students gain more benefit from physical activity if they have opportunities to be active at regular times during the day.
There is a strong correlation between being physically active as a student and being physically active in adulthood.
Academic performance is improved by regular participation in physical activity.
What WAVE can do:
Encourage physical activity opportunities in other parts of the curriculum
Develop resources and guidelines to increase physical activity
Identify ways of making it easier for the setting community to be involved in physical activity
Support settings to connect with community physical activity/sport organisations and clubs
Increase awareness and knowledge of the importance of being physically active for staff, students, and the wider community
Check out this video on how WAVE helped Rural Scholars Early Learning Centre with professional development sessions so that they can ensure their tamariki are getting the optimum physical activity in their day.
What is physical activity and why is it important?
For children and young people, physical activity includes play, games, sports, transportation, chores, recreation, physical education, or planned exercise, in the context of family, school, and community activities. 
The World Health Organisation (WHO) describes the benefits of physical activity for young people:  "Physical activity has also been associated with psychological benefits in young people by improving their control over symptoms of anxiety and depression.  Similarly, participation in physical activity can assist in the social development of young people by providing opportunities for self-expression, building self-confidence, social interaction and integration.  It has also been suggested that physically active young people more readily adopt other healthy behaviours (e.g. avoidance of tobacco, alcohol and drug use) and demonstrate higher academic performance at school"  Accessed from https://www.who.int/dietphysicalactivity/factsheet_young_people/en/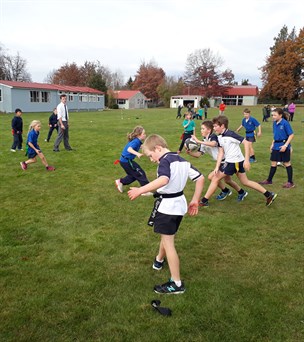 Rural Schools Touch Tournament
Traditional Māori Games 
Traditional Māori Games can be used as a professional development opportunity for both students and staff.  The objective of the professional development is to develop physical activity programmes looking at traditional cultural games, remove barriers and promote participation of physical activity through Traditional Māori Games.
History of Traditional Māori Games
Traditional Māori sport and games are cultural activities that cannot be understood from a narrow mainstream world view.  Their impact and sociological importance in ancient Māori society has been somewhat lost over time.  As Māori culture became subsumed by European culture and Eurocentric ways of recording history, the ancient games were largely removed from the New Zealand way of life.  Māori people have fought for and retained Māori knowledge, skills, beliefs and values relevant to the game playing traditions of Māori.  Game playing was a major social pastime for ancient Māori.  Traditional hapū or interrelated family groups lived on and around ancestral papakāinga or marae.  These provided stimulating environments in which games and their artefacts were devised and developed.  These homelands were hotbeds of sport and creativity.  Such was the ancient fervour for playing sports that it was not common for games to be played during tangihanga (funerals), or during full-scale battles.  These days the games are making a comeback in New Zealand and are even played by many thousands in the USA! [Ngā Taonga Takaro: Māori Sports & Games, Harko Brown, Raupo 2008]
Evaluation feedback from staff:
"Easy to implement, fun, good curriculum link".
"Encouraged to explore ways to implement Māori bi-cultural practice in everyday activities".
"The games could be used across a range of levels, fun but challenging- thinking was involved". 
Case Study:
Click here to take a look at how physical activity through the use of Traditional Māori Games develops cultural and physical wellbeing for all students.  Traditional Māori Games also develops and encourages Hauora (wellness) as well as leadership skills.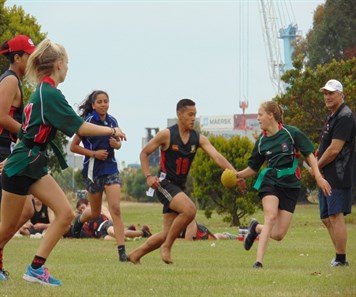 Students playing in a Ki o Rahi tournament at Caroline Bay, Timaru
60 Minutes a Day
Children and young people should get 60 minutes or more of moderate to vigorous physical activity daily.  Infants and young children should not be inactive for long periods of time.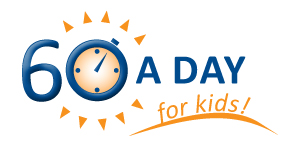 Links:
www.cph.co.nz - Encouraging and supporting physical activity in our community, Community & Public Health (Canterbury)
www.cph.co.nz - Free or low cost events and activities in Mid and South Canterbury to increase physical activity - cycle tracks, parks and playgrounds, swimming pools, walking trails, Be Active programmes
www.healthykids.org.nz- For Healthy Kids Activities out the "Move" tab
www.who.int - Physical activity fact sheet for young people
www.kidshealth.org - Games for school-aged children
www.sportcanterbury.org.nz/South-Canterbury-Region - What is happening in the South Canterbury Region
---
[1] Schofield, G. (2012). The New Zealand state of play report. Wellington, New Zealand.