Welcome to WAVE South Canterbury
*********************************RESOURCE CENTRE BOOKING DATES***************************

The last day for bookings is Friday 10th November 2023.
The Resource Centre will be closed from Monday 10th December 2023 and will re-open on Monday 22nd January 2024.
*****************************************************************************************
WAVE stands for "Well-being and Vitality in Education". The wording of the name illustrates the link between health and education.
WAVE is a framework for intersectoral work aimed at creating and supporting healthier environments for children and young people in South Canterbury.  [Read More]
This website features an online reservation system for resources available to education settings participating in WAVE.
The WAVE Story Follows on from the Evaluation: 16 years of WAVE. Explains what WAVE is and highlights the successes of WAVE and the lessons learned that can help strengthen health promotion delivery within a new National Public Health Service.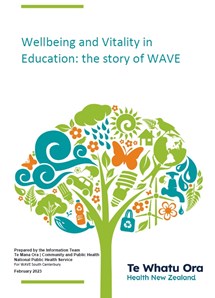 Korohi o te Pēpi & FLAVA was held the 8th & 9th September 2023
Previous years entry are available to view through the FLAVA 2.0 YouTube channel
www.youtube.com/channel/UCAKN87QOnTO-vGBR699fPVQ/videos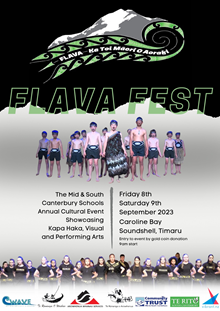 WAVE Evaluation report 16 Years of WAVE in South Canterbury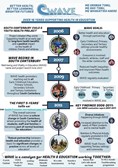 Te tapa whenua: naming the land
Kā Huru Manu
Healthy Food and Drink Toolkits for Early Learning Services and Schools
TE HĀ O AORAKI - THE BREATH OF AORAKI, South Canterbury Toothbrushing Programme
LINKS & DOWNLOADS
WAVE has introduced a new Links & Downloads section which is for kaiako to access various guides, toolkits, websites and programmes to assist your ECE and school in promoting healthy choices and lifestyles and to enable you to incorporate these programmes into your curriculum.

If you need further assistance or more information on these toolkits and programmes, please contact your WAVE Facilitator.

We have also included links as to where you can purchase some of our resources if you wish to do so.
LATEST NEWS
| | |
| --- | --- |
|   | WAVE in the media! |
| | WAVE Newsletter |
---