Welcome to WAVE South Canterbury
WAVE stands for "Well-being and Vitality in Education". The wording of the name illustrates the link between health and education.
WAVE is a framework for intersectoral work aimed at creating and supporting healthier environments for children and young people in South Canterbury.  [Read More]
This website features an online reservation system for resources available to education settings participating in WAVE.
THE WAVE RESOURCE CENTRE HAS MOVED!

It is now located in WAVE's main office at 18 Woollcombe Street.  Access to the Resource Centre is from the back of the building - entrance is off Barnard Street through the car park.  Drive through and park near the exterior stairwell.

A map can be found here.
Latest News
WAVE in the media! Check out the latest articles here!

 

WAVE Newsletter- August 2019

The WAVE Newsletter reaches it's 50th Issue!  Check out the new look here!
Upcoming Events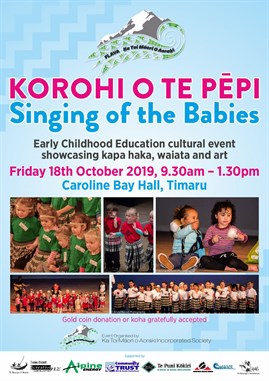 Registrations for Korohi O Te Pēpi close on Friday 6 September.
Registration Form can be found here.
Contact your WAVE Facilitator for more information.
5+ A Day Challenge for Early Childhood Educators
Term 4's challenge runs from Monday 21 October to Friday 29 November 2019.  How do you encourage gardening skills for children and whānau?  Ideas, tips, prizes and how to enter below.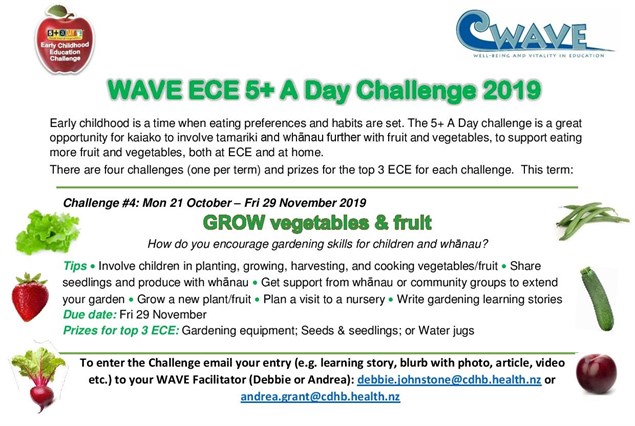 How WAVE has helped 
Check out this video on how WAVE has helped and supported Rural Scholars ELC in their work with tamariki. 
---