Welcome to WAVE South Canterbury
WAVE stands for "Well-being and Vitality in Education". The wording of the name illustrates the link between health and education.
WAVE is a framework for intersectoral work aimed at creating and supporting healthier environments for children and young people in South Canterbury.  [Read More]
This website features an online reservation system for resources available to education settings participating in WAVE.
WAVE Resource Centre - CLOSED

In light of COVID-19, we have had to temporarily close the WAVE Resource Centre.  

Please visit our Links & Downloads section for various online guides, toolkits, websites and programmes to promote healthy environments, including ideas for integrating into curriculum programmes.

Thank you

WAVE Team
9 July 2020
Links & Downloads
WAVE has introduced a new Links & Downloads section which is for kaiako to access various guides, toolkits, websites and programmes to assist your ECE and school in promoting healthy choices and lifestyles and to enable you to incorporate these programmes into your curriculum.

If you need further assistance or more information on these toolkits and programmes, please contact your WAVE Facilitator.

We have also included links as to where you can purchase some of our resources if you wish to do so.
Latest News
| | |
| --- | --- |
|   | WAVE in the media! |
| | WAVE Newsletter - October 2020 |
5+ A Day Challenge for Primary Schools & Early Childhood Educators - 2020
Term 4 Challenge - closes Friday 27 November
Check out previous challenges and entries!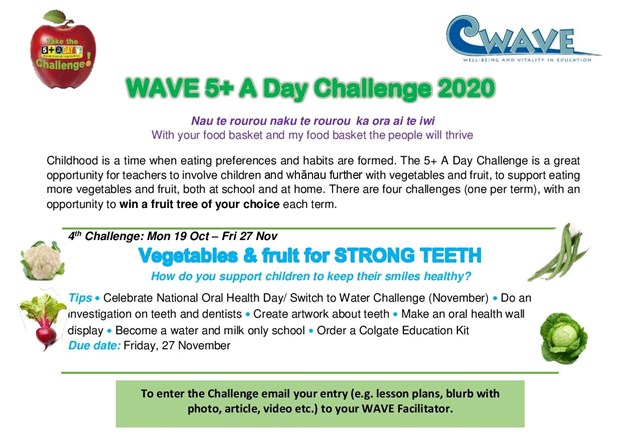 How WAVE has helped 
Check out this video on how WAVE has helped and supported Rural Scholars ELC in their work with tamariki. 
---