5+ A Day Wero / Challenge
5+ A Day Wero / Challenge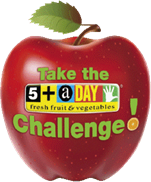 Childhood is a time when eating preferences and habits are formed.
The 5+ A Day Wero/ Challenge is a great opportunity for teachers to involve children and whānau further with vegetables and fruit, to support eating more vegetables and fruit - both at school and at home.
Get details on the 2022 5+ A Day Wero/ Challenge - now open! *New*
Submit an entry each term during 2022 to increase your chances of being selected. One entry from ECE and Kura is chosen each term to receive a fruit tree of your choice.
Click on the year to see the entries and challenges: