Smokefree
The risk of student smoking if both parents smoke is almost seven times greater compared to the risk of a student whose parents do not smoke. Even having just one parent who smokes, triples the risk of a student being a daily smoker. [1]
Education settings have a place to play in role modelling smokefree behaviour, and the earlier we can role-model smokefree lifestyles and environments to young people, the less likely they are to be smokers.  With the government's goal of a Smokefree New Zealand by 2025 we all have a role to play in helping reach this target.
The average age of uptake for smoking in New Zealand is 14 years old, with young people commonly experimenting with smoking when aged 12–13 years.
What WAVE can do:
Support students, parents and wider setting community to access support to quit smoking
Assistance with policy development and guidelines for addressing and managing smoking behaviour
Encourage adults to role model and influence smokefree environments for our students
Assistance with creating an action plan on Somkefree and work with settings to identify and implement smokefree actions and help with achieving your settings WAVE Awards Smokefree icon
Professional development for staff focusing on smokefree
Check out these two videos on how WAVE helped Rural Scholars Early Learning Centre incorporate the importance of being Smokefree in their community.
Little Lungs - Pūkahukahu Iti
Little Lungs – Pūkahukahu Iti is a collaborative project developed by WellSouth Primary Health Network and the Southern District Health Board and adapted locally for WAVE.  It involves looking at what is occurring both in and around the early childhood centre teaching and practices and what is happening at home with respect to smokefree.
Case Study - Early Childhood Centres in Waimate undertook this programme and this case study is about how the Little Lungs programme worked:  Little Lungs - Pūkahukahu Iti Case Study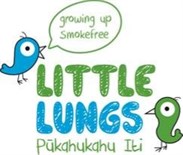 Smokefree signage for ECE and Schools
If your setting's Smokefree signage becomes faded or damaged in some way, or if you need more, contact your WAVE Facilitator and they will arrange more smokefree signage - and it's free.

Remember that every external door has to have a smokefree sign or sticker attached to it.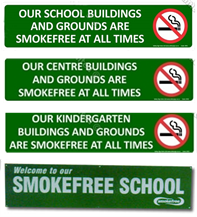 Links:
www.cph.co.nz - Smokefree, Community & Public Health (Canterbury)
www.smokefree.org.nz - Smokefree at schools
www.smokefree.org.nz - NZ Smokefree by 2025
www.healthpoint.co.nz - Kick Ash South Canterbury, (Cessation Programme)
www.quit.org.nz - Quitline
---
[1] ASH New Zealand. (2013). Youth smoking. Retrieved from http://www.ash.org.nz/wp-content/uploads/2013/01/Factsheets/07_Youth_smoking_ASH_NZ_factsheet.pdf