Active Travel
Walking, cycling and scooting to school are great ways to build regular physical activity into young people's lives.  Some of the benefits of walking to and from school include:  improved physical and mental wellbeing; arrive to school ready to learn; develop road safety and social skills; safer streets for the whole community.  Children who have walked to school from a young age are likely to feel more prepared with the skills required to transition to greater independent travel. [1]  
Did you know that today, more than half of New Zealand primary school children are driven to and from school - that's nearly double the number from 10 years ago!  If you've noticed that more of your students are being dropped off by car at the school gate, and this is of concern then our WAVE School Travel Plan Coordinator can work with your school to develop a school travel plan.  Children learn, grow and have fun when they get active on the way to school.
What WAVE can do
Support settings to develop their STP and coordinate the STP process.
Provide travel surveys for schools to gather information about travel behaviour and public health analysts to analyse the results.
Work with the Timaru District Council to provide mapping of walking distances, Park and Stride Zones for your school. Click on the link to see example of a Walking Distance Map:  Gleniti Walking Distances Map
Collaborative approach to find what will work best for your school and community.
Provide professional development and support to weave active travel and road safety within curriculum teaching:  https://education.nzta.govt.nz/news/teachers-at-education-portal-workshop-plan-to-boost-student-agency/

What is a School Travel Plan (STP)?
It is a tool for identifying and managing the local issues generated by car travel to schools.  The objectives and actions to achieve the goals of a STP consider the 5 "E's" of Enforcement, Education, Encouragement, Engineering and Evaluation.  The aim of a STP is to:
Reduce traffic congestion and improve road safety near the school
Coordinate actions designed to overcome real and perceived barriers to active travel
Increase the number of children using active travel modes to and from school
Improve health outcomes
Save money for individuals
Reduce environmental impacts
A STP encourages people to look at their car use and choose healthier, cheaper alternatives when available.  
Who develops the STP?
A working group with relevant stakeholders including the WAVE STP Coordinator, representatives of the school community, NZ Police and Timaru District Council personnel.
A travel plan will vary from school to school.
It is important to note that a travel plan is an active process which will change over time and needs flexibility to be successful.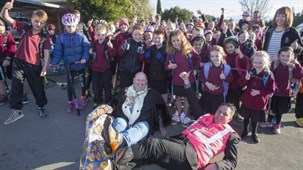 Putting their best foot forward are, in foreground, Mayor Damon Odey and Gleniti School principal Steve Zonnevylle, as part of the fancy feet theme for this week's Friday Footpath Frenzy.
Check out their article in the Timaru Herald:  https://www.stuff.co.nz/timaru-herald/news/106506425/mayor-inspires-fancy-feet-theme-for-schools-friday-footpath-frenzy
St Joseph's School Travel Plan
St Joseph's School is a Catholic Primary School who commenced working on a School Travel Plan in 2012 and continues to be proactive in promoting active and sustainable transport methods.
Case Study:  Take a look at St Joseph's School Timaru's Case Study about their School Travel Plan journey:   St Joseph's School Travel Plan
Let's Get Going Programme
The Let's Get Going programme has been developed for kindergartens, preschools, playcentres and early primary school years, interested in up-skilling children aged 3-5 years in cyclist skills.  It gives young children the opportunity to learn, develop and practise fundamental skills of cycling in order to gain the skills, information and motivation to progress towards riding a bike independently.
This in turn increases the likelihood of retained cycling with the goal of developing a lifelong enjoyment of cycling among children and their families/whānau.
The programme has been developed by early childhood teachers and cyclist skills trainers to recognise the skills set and developmental needs required by children.
If you are interested in undertaking the Let's Get Going programme, contact your WAVE Facilitator, or download a copy of the programme.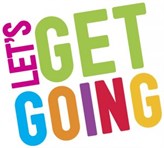 See what others are doing in South Canterbury:  
Craighead Kindergarten took part in the Let's Get Going programme and here is their story:  Craighead Kindergarten Let's Get Going
Useful links and downloads
We have various toolkits, programmes and useful links that you can access to help with your investigation into Active Travel 

[1]  Living Streets UK. Swap the school run for a school walk. 2018  Accessed via https://www.livingstreets.org.uk/media/3618/ls_school_run_report_web.pdf 17 July 2019