Māori Health
In 2017, Māori students had the lowest proportion of students remaining at school to age 17 (71.9%).  This compares with a retention rate of 82.9% for Pasifika and 84.9% for European/Pākehā.  Asian students had the highest retention rate (95.1%).[1]
Increasing health and well-being outcomes for Māori students assists settings to meet their obligations under Te Tiriti o Waitangi and to meet Ministry of Education requirements for Māori students.
By improving the health of Māori children and young people, we also improve retention rates and academic outcomes.
What WAVE can do:
Support settings to weave a cultural component through the curriculum, which may include the development of resources
Increase knowledge and skills to ensure a welcoming environment for Māori students that values their language, identity and culture
Enable links and relationships with the wider Māori community
Check out this video on how WAVE helped Rural Scholars Early Learning Centre foster Māori Health initiatives into their curriculum.
On Top with Te Reo - Makikihi School
The teaching team at Makikihi School realised there was a gap with regards to staff and students' understanding and comfort around Māori language (Te Reo) and culture (Tikanga), so after discussion with their WAVE facilitator, they worked out a plan. 
Here is Makikihi School's story on their visit to Waihao Marae, incorporating Te Reo signage throughout the school grounds and classrooms, increasing their use of Te Reo in every day language, and learning/playing Traditional Māori Games:  On Top with Te Reo - Makikihi School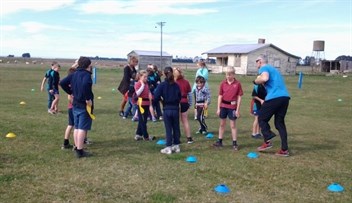 Makikihi students preparing to play some Traditional Māori Games
Traditional Māori Games 
To find out more about Traditional Māori Games and how this can be incorporated into Professional Development for teachers and students, see the Traditional Māori Games section under the Health Priority Area Physical Activity.  There is also a video case study.
Useful links and downloads
We have various toolkits, programmes and useful links that you can access to help with your investigation into Māori culture.

---
[1] http://www.educationcounts.govt.nz/indicators/main/student-engagement-participation/1955