Oral Health
One in eight New Zealand young people (2 – 17 years) had time away from school or ECE last year due to problems with their teeth. For one in nine children, their parent took time off work in the last year due to problems with their child's teeth or mouth. [1]
Good oral health is more than just having good teeth and a nice smile - it is important for good health and well-being.  Teeth are important for good nutrition, language development, and self-esteem.
Tooth decay is associated with speech development problems, difficulty sleeping, lost school days, and difficulty learning and concentrating. Most cases of tooth decay are preventable.
Establishing good oral health habits early has benefits over a child's whole lifetime.  Tooth decay in baby teeth is associated with tooth decay in adult teeth, which in turn is associated with diabetes and heart disease.
What WAVE can do:
Incorporate oral health into the curriculum and encourage settings to access oral health resources through the WAVE Resource Centre
Support settings to develop guidelines to support good oral health behaviours
Support settings to develop an environment that promotes good oral health
Support settings to engage with parents/whānau and wider community, eg, through the WAVE 5+ A Day Challenge and Kai Kōrero sessions
Provide professional development on oral health
Check out this video on how WAVE helped Rural Scholars Early Learning Centre with their Oral Health programme.
Oral Health support for under fives in South Canterbury
The South Canterbury District Health Board funds the 'Child Nutrition and Oral Health Promoter' to work with the South Canterbury community to create environments that promote good oral health from an early age.  This includes:
Working with WAVE to support ECE and other settings to promote good oral health
Providing one-on-one dietary and oral health consultations/home visits to families of children aged under five years, who are at high risk for developing tooth decay.
Working alongside other services to promote good oral health, such as Well Child Providers
Oral Health Days 
Does your setting celebrate oral health days?
World Oral Health Day
World Oral Health Day is celebrated globally on 20 March.  For more information and resources, visit www.worldoralhealthday.org


National Oral Health Day
The National Oral Health Day is celebrated on the first Friday of November.  New Zealanders are encouraged to ditch the sugary drinks and 'Switch to Water' for the month of November as part of this campaign.  For more information and resources, visit www.nzda.org.nz  


Eat Well and Drink Well
Healthy Snacks for Healthy Teeth poster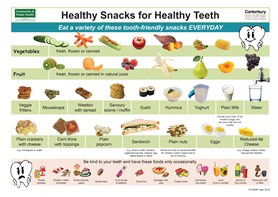 And here is an ECE version of the Health Snacks for Healthy Teeth poster.
FREE Dental Care for Under 18s
The Community Dental Service provides FREE dental care to eligible children living in South Canterbury or Canterbury from birth until School Year 8.  If you are new to the region you need to enrol with the Community Dental Service.  To enrol or to make an appointment contact the Community Dental Service: 0800 TINTY TEETH (846 983) or commdental@cdhb.health.nz 
Teenagers can have a FREE dental check-up from a local dentist until their 18th birthday if they are at school, on a course, working or looking for work. Call 0800 TALK TEETH (0800 825 583) for more information or freedentalcare@cdhb.health.nz.  Find a dentist in South Canterbury. 
Tooth Tips 
Tooth Tips for mums to be - during pregnancy
Tooth Tips for babies - around 6 months
Tooth Tips for babies and children - covers all age groups from 0-5 years, great for ECE
Tooth Tips for toddlers and young children - 1-3 year old
Tooth Tips for young children - for children around 4 years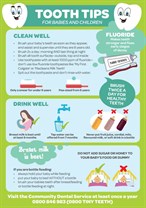 Oral Health Consults
See Oral Health Consults for more information.
Useful links and downloads
We have various toolkits, programmes and useful links that you can access to help with your investigation into Oral Health.

---
[1] Ministry of Health. (2010). Our oral health: Key findings of the 2009 New Zealand oral health survey. Wellington, New Zealand.