Smokefree
The risk of a young person taking up smoking is influenced by their environment.  Students are at greater risk of starting to smoke if they are exposed to smoking at home, have parents or friends who smoke, have easy access to tobacco, low self-esteem, or take part in risky behaviour.  Those who do well at school, have future aspirations, are involved in their communities, and have strong family relationships are less likely to take up the habit. [1]
Currently only 1.9% of Year 10 students are daily smokers, and 5% report ever smoking.  However, around 20% of those aged 18-24 smoke.  Education settings can help to keep youth rates low, and reduce risk that students will take up smoking once they leave school.  [2]
Education settings play an important part in role-modelling smokefree lifestyles, and normalising smokefree environments.  Schools and early childhood educators can help shape young people's attitudes around tobacco, and reduce smoking risk.  Education settings can help us reach the Smokefree Aotearoa 2025 goal.
What WAVE can do:
Assist with the development of policies and guidelines for addressing smoking behaviour
Provide professional development for staff focusing on smokefree, see Little Lungs for ECE, and Vaping and School Smokefree Policies for schools
Provide support to include e-cigarettes and vaping products in your smokefree policies
Assist with creating an action plan to identify and implement smokefree actions
Help your setting achieve a WAVE Smokefree Award icon
Support students, parents and wider setting community to access support to quit smoking
Encourage adults to role model and influence smokefree environments for our students
Check out these two videos on how WAVE helped Rural Scholars Early Learning Centre incorporate the importance of being Smokefree in their community.
Little Lungs - Pūkahukahu Iti
Supporting and advocating for Smokefree environments for our tamariki
This programme provides simple ideas for confidently delivering smokefree messages to parents and caregivers, tools for ECE to promote smokefree environments, smokefree resources relevant to early childhood, and on-going support to develop a smokefree action plan.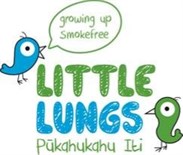 Vaping and School Smokefree Policies
This workshop gives school staff and boards of trustees the information needed to update their smokefree policies, with a focus on the emerging issue of e-cigarettes.  It will help educators understand emerging knowledge of e-cigarettes, learn about vaping trends in youth, and identify why e-cigarettes should be a part of school policy.
Smokefree signage for ECE and Schools
If your setting's Smokefree signage becomes faded or damaged in some way, or if you need more, contact your WAVE Facilitator and they will arrange more smokefree signage - and it's free.

Remember that every entrance to the grounds and external door needs to have a smokefree sign or sticker.
If you wish to add vaping/e-cigaretts to your settings signage, talk to your WAVE facilitator about options.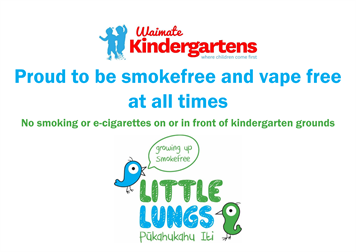 See what others are doing in South Canterbury:
Early Childhood Centres in Waimate undertook the Little Lungs programme and this story is about how the Little Lungs programme worked:  Little Lungs - Pūkahukahu Iti Case Study
Useful links and downloads
We have various toolkits, programmes and useful links that you can access to help with your investigation into being Smokefree.

---
[1] Health Promotion Agency https://www.smokefree.org.nz/smoking-its-effects/facts-figures#bookmark-2  Accessed 17 July 2019
[2] Health Promotion Agency ibid.