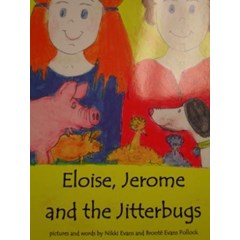 Eloise, Jerome and the Jitterbugs
This is the second book written and illustrated by Bronte Evans Pollock and Nikki Evans about Eloise, a regular girl with a not so regular problem.  In this book, Eloise's cousin Jerome Simpson comes to stay while his parents are working in Antarctica.  But Jerome has a problem with The Jitterbugs, commonly known as ADHD (or Attention-Deficit/Hyperactivity Disorder). 
Over the course of the school holidays on their eccentric grandparents' farm, Eloise and Jerome discover that animals can help people overcome problems in unexpected and sometimes unconventional ways.  Even someone with The Jitterbugs - like Jerome.
R013348 Mental Health and Wellbeing
You must be logged in to book this resource
---