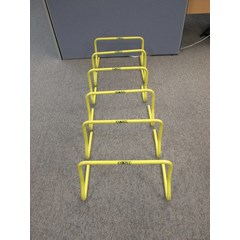 Step Hurdles x6 (30cm high)
Step Hurdles 30cm high.
Improve foot speed and agility by encouraging the development of proper running form and technique.

Start walking through the hurdles and gradually progress to high-speed recovery drills.
Great for all ages and all levels. The durable, lightweight, PVC tubing will tip easily if stepped on to ensure safety.

They can be used anywhere, and are weather resistant.
R013318 Physical Activity
You must be logged in to book this resource
---