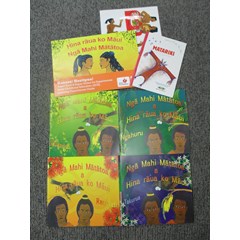 Bi-cultural Resource Pack for ECEs - Hauora! Hautipua!
Hauora! Hautipua! Super Food & Super Action for Superheroes
Four books that further support the super hero adventures of Hina and Maui. Focussing on the four seasons of the year, the books' key messages encourage healthy choices and healthy living for tamariki and their whanau. In each book, Hina and Maui talk about healthy eating and activity choices we can all engage in throughout the year.
Pack contains:
x4 books (winter, spring, summer, autumn)
x1 Teacher book
x1 Matariki book
x1 Pictures template
Stored in a plastic wallet
Suitable for ECE age
Created by the Heart Foundation and Te Hotu Manawa Maori
R013566 Māori Health | Nutrition
You must be logged in to book this resource
---