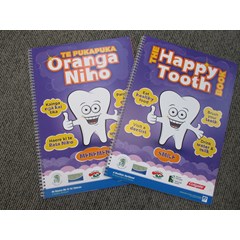 The Happy Tooth Book - Te Pukapuka Oranga Niho
This book is written to support teachers while taking an education session on dental hygiene. Ideal for ECE and new entrant children. Teachers can read the whole book at once or each section can be read over a series of classroom sessions.
Each section is based on a theme and ends with a waiata:
- Brushing My Teeth
- Healthy Food For My Teeth
- Visiting the Dentist
Two big colourful books - one in English and the other in Te Reo.
If you would like to purchase your own copy of the Happy Tooth book, email:
maree.lamerton@northlanddhb.org.nz
Each book costs $18.30 (incl GST and a courier fee)
R013598 Oral Health
You must be logged in to book this resource
---